AL MUHARIK ALASWAD W.SHOP EQUIP. TR | ISO.9001 Tools supplier in UAE
Macstroc FLARE.4C Compact Pipe threading Machine UAE
CAPACITY
Pipe: 1/8" -4"(3MM-100MM)
Bolt: 12MM-45MM
SPECIFICATIONS:
Motor: 1500W induction, 50/60Hz
Switch: Heavy-duty rotary Forward/off/reverse and integral foot switch.
Spindle Speed: 36/20/11
Front Chuck: Hammer type with replaceable
rocker action jaw inserts.
Rear Centering Device: Cam action.
Oiling System: Through the die head, with integral oil reservoir.
Pump: Self-priming constant flow, gerotor pump.
STANDARD SUPPLY
Model FLARE.4C Threading Machine. (110 or 220V )
Self-opening die head-SDHN71/SDHB91 (BSPT or NPT )1/4-2"
Self-opening diehead-SDHN74/SDHB94 (BSPT or NPT)2-1/2-4"
½"-¾" universal HSS dies set. (BSPT or NPT)
1"-2" universal HSS dies set. (BSPT or NPT)
2-1/2"-4" HS Die set. (BSPT or NPT)
Cutter-MHC2032 : Capacity: 1/4"-4"(6mm-100mm) pipe
Reamer-MHR1010 : Positive-locking, 5-flute cone, righthand 1/4"-4"(6mm-100mm).
*1 Gallon 'Power Fluid PF-9835' cutting oil.
Supplied with MFS642 foot switch, MH1500 wheel stand  (Optional)
Hole Drilling Machines
We Supply Hole cutting Machines for pipes, in UAE. The range is from 1MM to 155MM Capacity.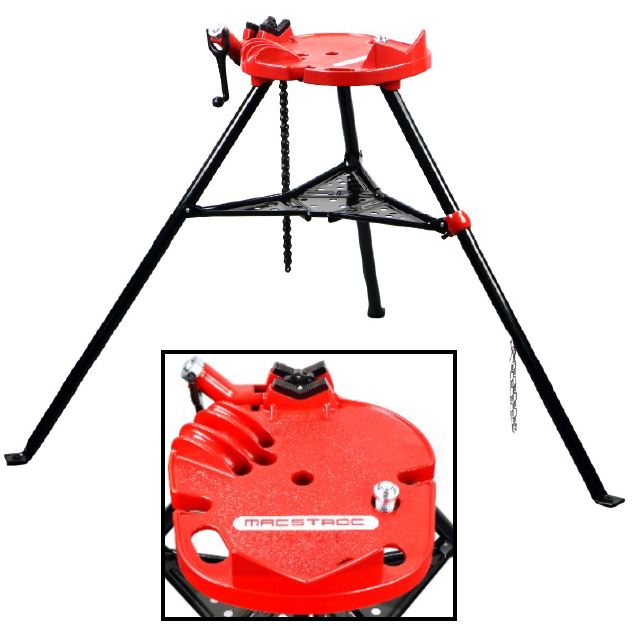 Tipod Stand chain vise
We Supply Tripod Pipe stand with chain vise for 6 inches pipes
High Quality HSS Dies
we Supply pipe dies for Ridgid, Rothenberger, Rex and Macstroc Pipe Threading machines in UAE, as well as for manual ratchet threaders both in NPT and BSPT
Manual Ratchet threader sets, from 1/2-2″ both in NPT and BSPT. we also supply dies for Ridgid and Macstroc
Quality Pipe tools Supplier in UAE